Working together to deliver the Partnership Plan
Core values
A number of core values or 'ways of working' have been identified through consultation, which will inform how everyone involved in delivering the Partnership Plan will work:
Communication – improving communication and promoting understanding through shared learning, knowledge and research.
Engagement – involving people in understanding, conserving and managing the National Park and promoting social inclusion, with a particular focus on young people.
Resilience – helping to ensure that Dartmoor is sustained and enhanced for present and future generations.
Communication
A key theme throughout the consultation on this Partnership Plan was the importance of communication. This includes providing clear information in a range of formats and media to help people find out more about Dartmoor – where to go, what to see, what to do; and if they want, to learn more about its special qualities. It means working with local businesses, communities, farmers, education providers, and others to act as Ambassadors for Dartmoor, with clear and consistent messages to help people to enjoy and understand the National Park, but in a way that does not detract from other people's enjoyment or damage the special qualities. However, the theme of communication is much more than that. It also includes clarity over the work of the National Park Authority and other agencies and organisations.
Engagement
Crucial to the delivery of the Partnership Plan is strengthening the relationship between local communities, visitors, partner organisations and the National Park itself. This includes ensuring that local people have a say in how the National Park is managed, as well as getting involved themselves through volunteering, practical conservation work or archaeological projects, and through sharing the information and knowledge that they have of Dartmoor's special qualities. It means working with and through farmers and commoners to sustain traditional upland farming practises and the landscapes, wildlife and cultural heritage that these provide. It means encouraging local businesses to take pride in Dartmoor and their local area, to use the high quality environment as an economic advantage, but also to give something back.
The consultation highlighted the need for a particular focus on young people during the Plan period. Whilst this is not intended to exclude other sectors of society or ignore important issues such as an ageing population, there was a strong feeling that a focus on young people is needed to address the particular needs that they have in relation to issues such as employment, local housing, transport, and so on, as well as involving the next generation in caring for Dartmoor so that they become the custodians and ambassadors of the future. A number of actions have been identified throughout the Plan to engage with young people, such as the young farmers in the Next Generation Initiative, or local schools and clubs.
Resilience
Dartmoor's geography, and the isolated nature of many of its rural communities, brings with it many challenges, but is also its strength, as demonstrated by the wide range of businesses on Dartmoor and the strong sense of community. The resilience of Dartmoor's businesses and communities will need continual strengthening to withstand future challenges, such as extreme weather events, flooding, increasing energy prices and cuts in public services, so has therefore been identified as a core value running through the Partnership Plan, helping to ensure that Dartmoor is sustained and enhanced for present and future generations.
Helping deliver national and local priorities
The Partnership Plan sets out how the National Park will help to deliver national priorities relevant to its designation, leading the way in developing new approaches and thinking, and being an exemplar in demonstrating delivery of sustainable development. It also links to local priorities, setting Dartmoor in a wider context and connecting with local communities and agencies across the National Park boundaries. The links between the Partnership Plan and other plans and programmes is illustrated in figure 7.
Figure 7 Relationship of the Partnership Plan (also known as the management plan) to other plans and programmes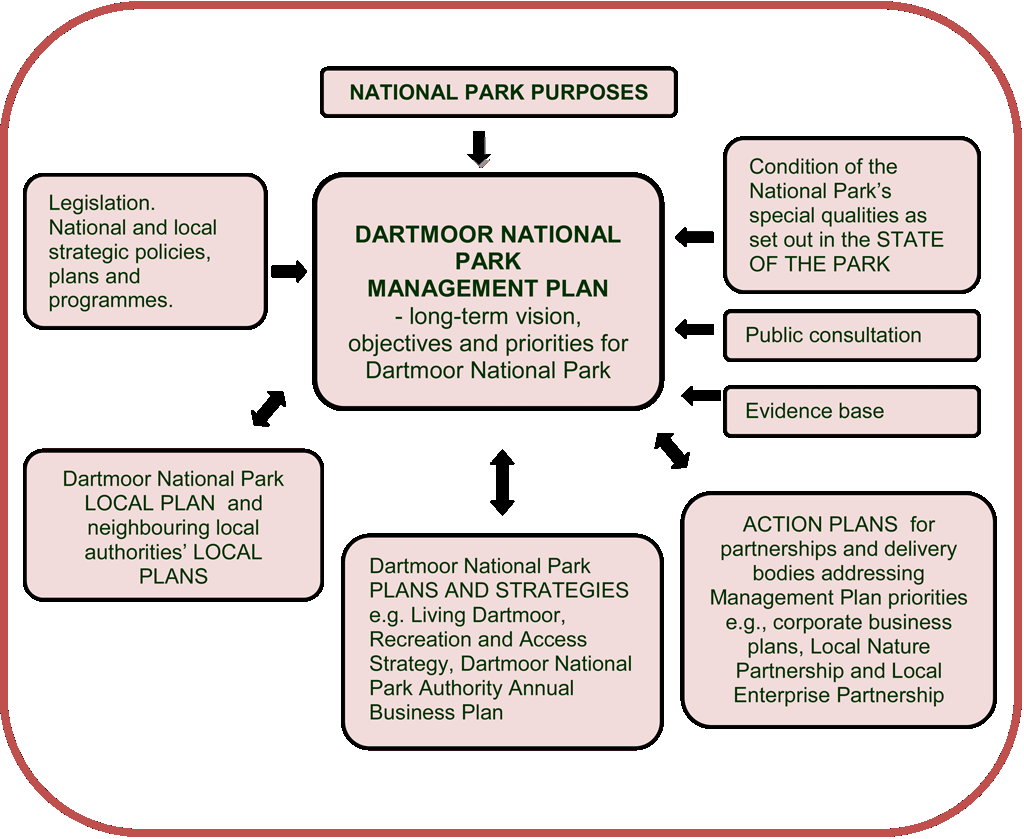 Delivery through partnership
Preparation of the Partnership Plan has been facilitated by the National Park Authority, but its delivery will be a shared responsibility, dependent on maintaining existing, strong working relationships and forging new ones. Delivery will involve everyone with an interest in the future of Dartmoor, from national agencies and local authorities to local communities, businesses, interest groups and the voluntary sector.
A Delivery Board with senior representatives from key delivery agencies will provide a strategic overview of how progress is being made towards the Vision and Priorities, and agree how resources and activity should be focused. The Delivery Board will be supported by three working groups based around the three themes of Sustain, Enjoy and Prosper. These will enable all those who will help to deliver the Partnership Plan to continue to be engaged with the process, to share ideas and experiences, and to strengthen working relationships throughout the Plan period.
Action plans
Part of the feedback from the previous Partnership Plan identified a need for greater clarity over how it will be delivered. A series of action plans for each Priority have therefore been prepared in consultation with delivery partners with clear timeframes and resourcing.
Due to the need to monitor progress, the action plans will be reviewed and refreshed annually, enabling changing circumstances and future issues to be taken into account. There may be other projects or organisations, not specifically identified at the time of preparing the Plan, that will also help deliver the priorities.