Enjoying Dartmoor - Key areas
Clear and inspiring communication about how to enjoy and learn about Dartmoor
One of the clear messages from the consultation was the importance of good communication, and this has been identified as a core value running throughout the Management Plan. However, there are specific actions that are required in providing clear and inspiring communication to help people to enjoy and understand Dartmoor. This includes improved communication and engagement with local communities, businesses, and hinterland communities surrounding Dartmoor; developing targeted information for different audiences and geographical areas; and innovative means of communication utilising emerging technologies. A major element of this is working together with an agreed set of key messages that all partners can use, and a network of local 'ambassadors' including farmers, commoners, tourism providers and local businesses, to identify and promote messages on the ground. An Information and Interpretation Strategy for Dartmoor identifies key themes, and will help to provide a co-ordinated and consistent approach to the provision of information and interpretation. The network of information points, Visitor Centres and Tourist Information Centres on Dartmoor and in surrounding areas will also play an important role.
Understanding visitor needs and trends
Around 2.3 million people visit Dartmoor annually, so it is important that there is a clear understanding of their needs. Many of these visits are day-trips to Dartmoor as part of a wider visit to other parts of the South West, and a key objective is to encourage more people to stay longer and to make Dartmoor a destination in its own right. Improved co-ordination of information and promotion will help with this. There are also opportunities to make more of Dartmoor's natural assets, such as local food and drink or arts and crafts, to encourage people to visit for longer. For more information see the Prosperous Dartmoor priority.
Improved sustainable recreation opportunities for all
Dartmoor is highly valued by visitors and local people alike, for the recreation and tourism opportunities it offers. Much work is already underway to help people enjoy and understand more about Dartmoor, in ways that are compatible with conservation of the special qualities for which the National Park was designated. There are over 730km (450 miles) of public rights of way and an additional 127 km of permissive paths. Forty per cent of the National Park (over 46,600 ha) is open access or common land. There are a variety of routes for walking, cycling and horse riding including sections of long distance routes, easy access routes, and self-guided or guided walks, and connections into surrounding areas. Dartmoor is well known for the annual Ten Tors challenge, and has become a popular destination for the Tour of Britain cycle race and other events. Climbing, letterboxing, geocaching, caving, fishing and kayaking are also popular activities.

The increase in the number and size of these events needs to be balanced against the impacts on local communities and landowners, and organised events are managed through an events calendar to spread the impacts in terms of location and timing. The increase in the range and popularity of recreational activities also brings pressures and conflicts between users. To address these, there are a number of specific initiatives; for example, the 'PAWS on Dartmoor' programme which provides advice for dog owners on how to enjoy Dartmoor safely and avoid disturbing livestock. Similarly, the code of conduct for geocaching provides guidelines to avoid disturbing sensitive wildlife or damaging archaeology. The increased popularity of cycling has provided opportunities to promote the variety of designated cycle tracks, byways and bridleways, and to reinforce messages that cycling is not permitted across the open moor. The Dartmoor cyclists map and other information available online show the routes that cyclists can use and carry messages about riding safely and responsibly.

The ongoing management of the rights of way network is important to support enjoyment of the National Park by visitors and local people. This is guided by the Rights of Way Improvement Plan, although reduced funding means that there will be fewer resources available for this work over the Plan period. The effects of climate change, including flooding and erosion due to extreme weather, is leading to additional pressures such as damage to some of the National Park's rights of way and other infrastructure.

Focused and co-ordinated management of visitors to ensure that areas for exploration and tranquillity remain for quiet enjoyment
Sometimes the scale or nature of recreational activities brings them into conflict with other users, wildlife, or the tranquil nature of the National Park; careful management, working in partnership and with user groups, landowners, farmers and commoners, is needed to ensure enjoyment for all. This has been addressed by the zonal approach to management, set out below.
The Recreation and Access Strategy for Dartmoor identified a zonal approach for managing different areas divided into:
Areas of Heavy Recreation Use, where resources will be focused to manage pressures, with the provision of high-quality visitor infrastructure at key access points for the wide range of users. These include areas around the south west of the National Park, around Haytor and Widecombe-in-the-Moor, and along the Teign valley.
Areas for Exploration and Tranquillity on the moor, where users will need to navigate and plan their own routes or go with a guide. Events and group activities will be carefully managed, especially in the bird breeding and lambing season. Visitor infrastructure will be carefully located at key access points and moor gates.
Quiet Areas will provide wildlife havens and solitude. Legal access will be maintained but recreational infrastructure will be minimal. Guided and self-guided walks and events will be discouraged.
Areas of Opportunity, which offer scope for increased use if managed sustainably with improved recreation infrastructure. These include the Southern Town Corridor, Eastern Woods and Reservoirs, north and west Dartmoor, and High Dartmoor Forests.
Linking Town and Country, where the provision of sustainable transport links to surrounding settlements will be encouraged, for example walking, cycling and public transport.
Enclosed Land, where existing public rights of way will be maintained.
Better understanding of, and access to, the health benefits of Dartmoor
Increasingly, the health benefits of accessing the natural environment are being recognised – both physical health in terms of active pursuits such as walking, cycling and riding; and mental health in terms of providing space, tranquillity, and inspiration. The words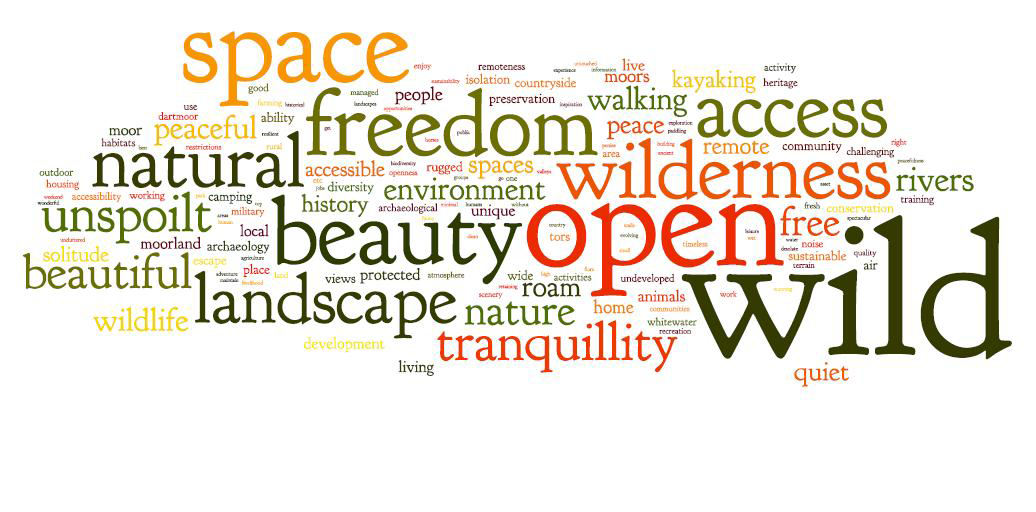 used by people responding to the consultation to describe Dartmoor clearly illustrate this. The proportion of visits to the natural environment where the motivation was for health or exercise is increasing; and visitors to the natural environment have been consistently shown to benefit, particularly in outcomes such as enjoying visits, feeling calm and relaxed and/or refreshed and revitalised Natural England Monitor of Engagement with the Natural Environment (MENE) Survey 2012-13.

Further work is needed to understand the health benefits of Dartmoor and how these can be made available to all, particularly to some of the most vulnerable people in our society. This has been recognised by the Devon Local Nature Partnership, which has included links with health benefits as one of its priorities. Access to nature including active sports can help address health, including mental health, and obesity, which are priorities for the recently established Health and Wellbeing Boards. The Management Plan core values of engagement and resilience and the focus on local communities, young people and families, education, supporting access and enjoyment for all, and helping to meet identified needs such as appropriate housing, will also provide health benefits, and link to the priorities identified in the Devon Joint Health and Wellbeing Strategy.
Sustainable modes of travel onto and around Dartmoor
The promotion of sustainable modes of travel onto and around Dartmoor remains an important objective to mitigate climate change, and support social inclusion and healthy lifestyles. This includes public transport, cycling, walking, and specific initiatives such as the Haytor Hoppa bus service from Newton Abbot, covering the eastern side of Dartmoor. There has been a significant increase in cycling, with popular events such as the Tour of Britain and London Olympics strengthening a generally upward trend in cycling. Dartmoor has a number of existing cycle routes, and opportunities to enhance these, including connections to nearby towns and cities such as Newton Abbot and Plymouth. Promotion of more sustainable modes of transport is also important to address the impact of traffic at peak periods; for example, through the promotion of Travelling with Moor Care, and speed limits across the moors to reduce injuries to livestock and conflicts with other users. However, with continued cuts in public finance, the provision of public transport is increasingly under pressure and alternative solutions will need to be sought to improve access to and within Dartmoor National Park.
Opportunities for everyone to learn more about Dartmoor
Dartmoor provides a fantastic educational resource for schools, universities and research, and it plays an important role in advancing knowledge of the natural environment, history, wildlife, geology and culture. This includes formal learning through education with opportunities for children and students to visit Dartmoor on field trips or residential stays, and events. There are also many informal learning opportunities available through volunteering, guided walks and other activities that help visitors and local people learn more about Dartmoor.
Nationally, data from the Natural England Monitor of Engagement with the Natural Environment (MENE) Survey 2012-13 shows that people surveyed reported positive experience of the visits with 98% having enjoyed their visit. Notably, however, only 28% nationally reported that they had learned something new about the natural world. The Dartmoor Recreation and Access Strategy has a key theme to raise awareness and understanding of the opportunities for recreation. Increasing people's opportunities to access and enjoy Dartmoor will lead to a greater understanding – either through formal provision of 'learning' or simply through the direct experience of the National Park's special qualities.